1/20/2015
8th Annual Stoopid 50 Backcountry Race
State College, PA
**EVENT POSTPONED UNTILL 2016**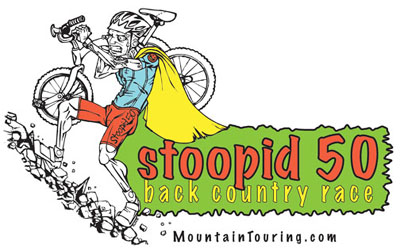 For 2015 we will be using the same course and Aid Station Locations as 2014. They are in the perfect locaiton to keep you hydrated for the long haul. Here is your course map

The Stoopid 50 race is a great combination of forest roads and trails, with a 30/70 mix of road to trail. Starting at 9am Sunday morning, from Aikens Cabins, the race covers the bulk of the great trails in the Rothrock State Forest. The course will take you on some amazing trails like Tussey Ridge, Indian, Beautiful, and Dutch Alvin before it climbs back from Coopers Gap to Finish at Aikens Cabins. Expect ride times of 4-8 hours
Fee Schedule:
Early Registration $60 untill 11pm May 2nd, 2015
Regular Registration $70 untill 11pm June 12th, 2015
Onsite Registration $80
Sorry, no refunds on entry fees.
Transfer of entries is $20, prior to June 1st.
Weekend Schedule:
Saturday: 11am Aikens Cabins open to camper
7pm-9pm Racer Check-in
Sunday: 7:30-8:30am Racer Check-in
8:40 Racer Meeting
9am Race Starts
2pm Post Race Food


An additional $15 for a non-racing accomplice joining you who wishes to eat after the event. This can be paid at racer check-in.

Check out some great video coverage from the 2013 event on Dirtwire.tv!
Here are some past years' results:
2007, 2008, 2009, 2010, 2011, 2012, 2013, 2014

2015 will see 2 Aid Stations this year - Mile 12 and Mile 30
The Aid Stations will have water, Hammer HEED, Clifbar Products, Gatorade, salty food, granola bars, figs, peanut butter and jelly sandwiches, and some apples and bananas.
We will transport a drop bag for you : 1- 1 gallon zip lock bag (upon request)
Here is your course map (subject to change) - thanks Ray Crew!!!

The Stoopid 50 Mile Race will take place in Rothrock State Forest just outside of State College, PA on June 14th, 2015. Staging for the race will be at Aikens Cabins just across from the Tussey Mountain slopes.
The address for Aikens Cabins is:
400 Bear Meadows Rd.
Boalsburg, PA