The 19th Annual Shenandoah Mountain 100 - Sept 3, 2017 - NUE Series
Thanks so much for registering for our 16th annual event! We hope you have had a great summer and are ready to get your ride on!!!
FIVE BIG THINGS!
1) We are happy to welcome everyone to Three Notch'D Brewing Company - Charlottesville, VA. With taprooms in Harrisonburg and Richmond too. The good stuff comes in a recreationally friendly can. Bring your favorite Three Notch'D can to the SM100 and we will give you a limited edition SM100/Wilderness 101 koozie to keep it cold. Thanks to our friends at The Charlottesville Racing Club and the Stokesville Market for the Hook UP!
2) Camp spots 14-24 NOW P1-P9 are reserved for people with RVs who made advanced reservations and event sponsors. RV ROW(s)!
3) You will need a picture ID at registration to pick up your race bib.
4) Bee's - we have not eradicated bees on the Bridge Hollow Climb or the Braleys descent yet. Help us get them!! -- AND -- BE CAREFUL of them!
5) Massanutten Bike Park - yep, we have a RAD new super family friendly lift access bike park just around the corner at Massanutten Resort. Check them out on Monday after the 100 and have a GREAT TIME!! - After Labor Day Monday their Fall hours are Wed, Sat, Sunday 10-5pm until the end of Oct. Sooo fun, soooo good, you owe it to yourself to experience these big flowing berms and the weightless feeling of rolling over their jumps.


In other news...


Camping will be available here by advance reservation after this weekend or virtually anytime with the purchase of an all access pass - $100 individual and $200 family for the year. Buy now and use until the end of the 2015 season! We are offering individual and family lifetime access passes to raise money for the trails and facility improvements. $1,000 individual and $2,000 family. Come out and camp and ride with us whenever you can get away!! Contact
stokesville.campground@gmail.com
for reservations or pass purchase. We are accepting applications now for a innkeeper/grounds manager.
Back to the event...
Again this year we spent a lot of time enthusiastically getting the trails ready to go for the event. The 2013 addition of Tillman West got blown wide open by Ian Beckner and his brushing crew. We brushed Wolf Ridge over the last two weekends. Dowell's Draft has some tall mystery grass but it is riding well. Bridge Hollow/Braley Pond got a nice freshen up from Bryan, Joe and Rick. Chestnut Ridge is finally tree-less and rolling well! Huge thanks to SMT staff along with David Taylor, Alex Kurland, Tom Cooper, Bryan Wright, Thomas Jenkins, John Petrylak, Matt Trybus, Rick Wilkins and Andy Rhodes for making this happen.
Our local Forest Service office, the North River Ranger District has done an AMAZING job with a very limited budget this year. It would be great if you thanked them by calling the office and letting the receptionist know how much you appreciate their hard work. 540-432-0187
You might remember hearing last year that the Shenandoah Valley Bicycle Coalition made another HUGE contribution to the local National Forest trail system. Yup, and this is after the 2010 grant where over $50,000 went to the trails used in the Shenandoah Mountain 100 and another $5o,000 went to system trails in this area. In 2012 they upped the ante and over $60,000 of the $120,000 Phase II grant went to the Shenandoah Mountain 100 course. Now, looking forward into 2015 they are pushing approximately $50,000 of a $100,000 grant extension we were awarded towards finishing the Wolf Ridge relocation and creating a new top section on Dowell's Draft.
They are now in the final steps of securing the Phase III North River Trails Enhancement Project which will likely bring about $250,000 to our forest right here for you! This will be a collaborative effort from the SVBC in partnership with IMBA, Shenandoah Mountain Touring, and the United States Forest Service. This is all grant money from the Department of Transportation's Federal Highway Administration Recreational Trails Program and it is creating destination trails right here in the Shenandoah Valley. SVBC is eagerly looking to place a half MILLION dollars of trail on the ground in just over 5 short years - ASTONISHING!
A great way to say thanks to SVBC is to come back down to the Stokesville Campground for the Shenandoah Mountain Bike Festival - Oct 10-12 (SVBC Event) and ride all of these fun new trails. - You can also make a donation to support the future Phase III SVBC Recreational Trails Program grant on the Festival Registration page.
We are psyched to be assisting the Bishops with the Jeremiah Bishop Alpine Loop Grand Fondo on Sunday Sept 28th. This is a great event that you should not miss. Erin and Jeremiah have a first class ride going on. I promise their route is better than you can ever imagine!! I feel like I am lost in the Alps when I ride this route.
Our final mission this fall is for another VA Trail ride. It's looking like a crew will roll the singletrack while Chris runs support and maps the Virginia mountain road edition of the Virginia Trail.
2015 is looking amazing. We are getting goosebumps and can barely focus on the task at hand. In the spring we are planning the multi Day Stokesville Douthat Stokesville (SDS) Enduro that will be run in the true Trans-Provence style of backcountry brilliance. We will also be tossing out the Stokesville 50 and the Rough Roubaix. Our regular program of Dragon's Tale, Virginia Mountain Bike Trail Festival, Stoopid 50, Iron Mountain 100K, Wilderness 101 and the Shenandoah Mountain 100 should keep us busy. In the fall we hope to finally roll out the Enduro Supremo from the Stokesville Campground. After doing our homework in Italy this summer at the World Enduro Series Event we are SUPER PUMPED to bring our region a world class enduro event.
--- THE Race Brief! --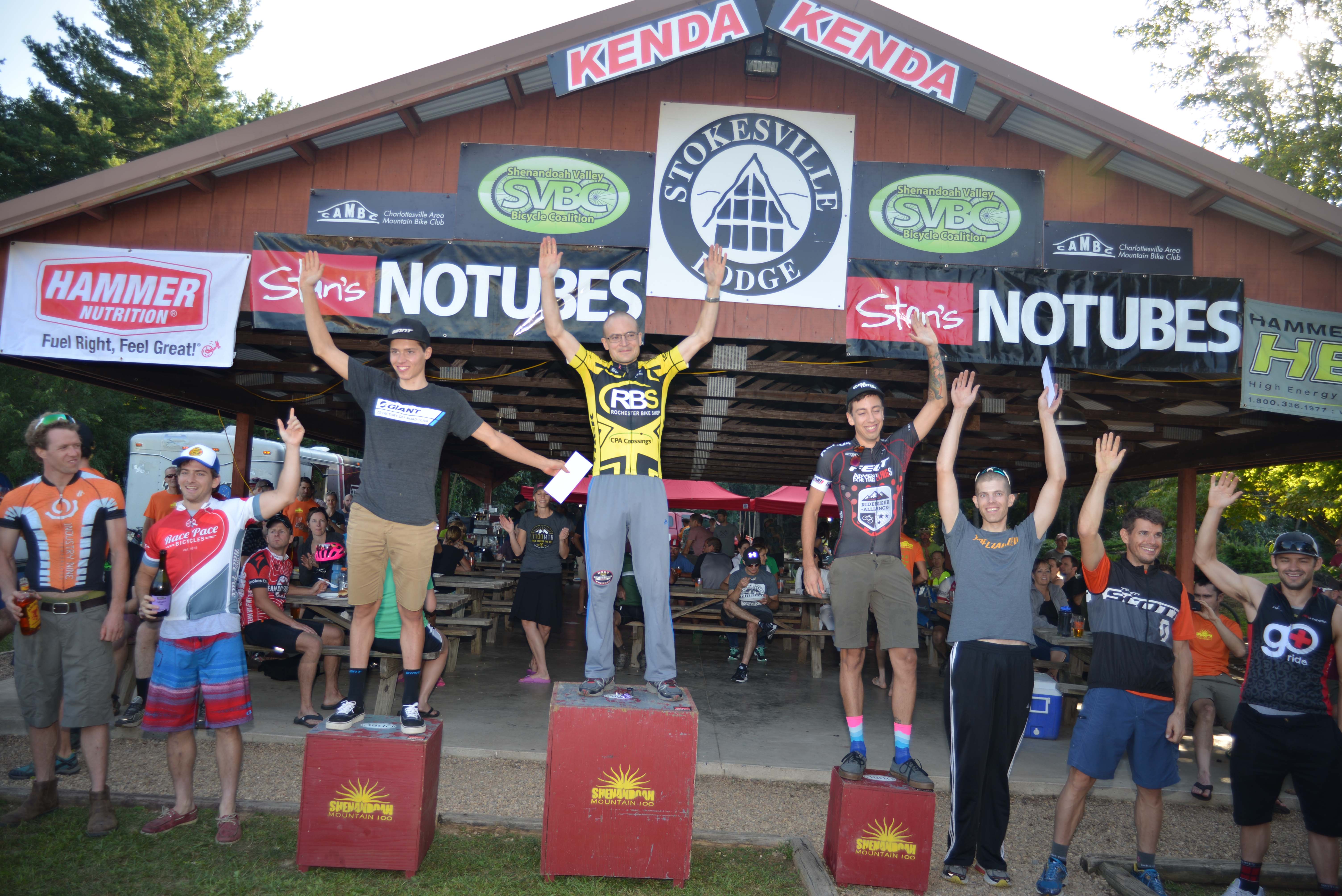 The 2016 Shenandoah Mountain 100 Men Open Podium - WOOOOOOO - Some super fast dudes!!! . From Stokesville Campground
TOP Fuel Dudes
Last year was AMAZING Christian Tanguy was just unreal. He bridged the gap coming into the Hankey Climb after getting distanced early on the technical trails and blew right through everyone. Dylan Johnson (Cameron Racing) latched on and they were GONE! Dylan took it to him on the death climb and the race seemed over. But Christian didn't lay down. He just kept pushing the throttle and brought himself back into the game on Hankey again. Such an inspiring victory. Such a great competitor!
BUT... he is back! Jeremiah Bishop (Topeak Ergon Racing Team). He put 20 minutes into everyone at the Mohican 100. He raced onto the Podium at Trans Alps with the top European pros. B ut with5 stage races this year under his legs beginning in February, is Harrisonburg's champion fired up to take his home race? You bet he is. But it won't be easy. The HEAT is HERE!
Defending NUE Dylan Johnson (Cameron Racing), for NUE champion Christian Tanguy (RBS Bike Shop), double USA Cycling National Champion (on one year!) Brian Schworm (Think Green-Bicycle Face p/b SWORD), producer of unfading power Heath Thummel (Race Pace Bicycles/I9), and veteran ripper and sledge hammerer Keck Baker (Blue Ridge Cyclery) will all for sure be the early antagonists.
The second tier of challengers is led by neo pro Eddie "Shreddie" Anderson (Axeon Hagens Berman) who has had a storybook year winning the Stokesville 60/40K over hometown hero Bishop and didn't stop there making two Europen trips racing in World Cup Mountain Bike events and Pro Tour road events in the US. He has the skill and the power but winning big races doesn't come easy and sometimes it takes time. Will it be his time this soon? Eddies trailing partners and pals are no joke either. Expect George "G" Schultz and Josh Craig (Kelly Benefits) who are both ripe with speed and skills as freshman here at JMU to be flying. Another youngster with serious game is Adam Croft (Bear Development/Virginia Forest Resources) who is gunning hard for his first top 10 here. Connor Bell (Rocktown Bicycles) a full throttle Junior MTB World Cup racers just a few years back - is back! He lit up the Wilderness 101 last month and made the selection happen. He is on it and wants to have fun - going fast is fun and we expect to see him do that again. Michael Danish (NOX Composites is a lightning fast singletrack specialist who lives in the Wash D.C. area, Joe Fish (Coqui Cyclery/Nissan RVA) guns will be a BLAZIN. Stewart Gross (Bike Line) should be back up to speed after a summer delay. Chris Tries (The Bike Shop) and Nick Bragg (Organic Valley/HiBall Energy) made the trip up from TN to put it on the line as did Kentucky rider Lee Hauber (Clarksville Schwinn powered by Whayne)
With this stacked field regular fast guys like Jed Prentice, Dan Atkins, John Petrylak, Andy Rhodes and Frank Yeager have to have hero rides just to be in the top 20. Good thing for them it is a fun course to suffer on.
Smoking Fast Ladies
In the women's field Andrea Dvorak (Miller School) is looking to defend her crown against all challengers including Carla Williams (Joes Bike Shop), who took second last year at this race last year and is fresh off a win at the Wilderness 101, and Libbey Sheldon (Crosshairs Cycling), who took second at the Wilderness 101 and is riding this year like she's never ridden before. Add in speedsters Laura Hamm (Moonstompers), Anne Pike (Team DNA-Movement p/b Penetron), Lauren Cantwell, and Julia Thumel (Race Pace) and you've got a recipe for a hard fought race start to finish. Let off the gas for a second and you just might get caught!
Masters Men
Last year's master's men champion Jeff Clayton (Georgia Neurosurgical Institute) looks to once again fend off last year's runner up "Handsome" Roger Masse (Rare Disease Cycling). Beyond them the field is wide upon with Chris Merriam (Crosshairs Cycling) trying to net himself a good individual result while supporting the entire racing Merriam clan and young Gordon Davies jumping fresh into the master's field hoping to follow up on strong showings through VA this year, and Greg Cimmino (Class Cycles) trying to repeat a podium finish. This field is a strong and wide open proving that endurance mountain biking keeps us all young and not just at heart.
Gordon "Quadsworth" Wadsworth (Blue Ridge Cyclery/Pivot Cycles) returns as the favorite to take the singlespeed crown just as he's been doing throughout the country at UE races this year, but he can't spend too much time at aid stations grooming his mustache and drinking Perrier because challengers Chris Lane (Joe's Bike Shop) and Dahn Pahrs (UPMC Pro Bikes) will be nipping at his heels all day. As usual the singlespeed field is even more stacked with Victor Guevara (Moonstompers), local folk hero Johnny Youngdahl (Pro Tested Gear), Mike Montalbano (Race 4 Rescues), Josh Hepler (Moonstompers), and Patrick Blair (Adventures For the Cure) looking to follow up on strong finishes last year. A Charlottesville contingent has even realized that singlespeed is actually an advantage and Dave Tevendale and Joe Perpetua (Blue Ridge Cyclery p/b Reynolds GM/Subaru) will try to translate past geared success into lightweight reliable glory. There are even long distance travelers like Dan Giroux (BSWC) coming all the way from Massachusetts trying to capitalize on that TSE fitness. And finally there are the lost souls back from 100 miler hiatus like Wilson Hale (Big Willy's Dirt Surfers) and Scottie Pendleton (Foxy Moxy Racing) bringing the party and the pain to make sure everyone remembers to keep the rubber side down and not tell any of their competitors their gearing.
Please use #Shenandoah100 and #Stokesville so your friends and family can follow the energy via their favorite social media avenue and LIKE our company page on Facebook so we can more easily tag you in our Shenandoah Mountain 100 event galleries and videos. Using #Shenandoah100 and #Stokesville in your tweets and with your pictures will help keep the momentum going!! Follow us on Instagram via @shenandoahmountaintouring and our related @StokesvilleLodge account @Stokesville.VA Our twitter feed is @ShenMtnTouring. Will Niccolls (The Angry Mountain Biker) Bob Popovich (Bob's Photo Gallery) and Jack Looney will be snapping pics. Photos will be on their pages and we hope to have some sweet highlights of theirs and some of yours if you share them with us on Pink Bike - DO IT!!
The Shenandoah Mountain 100, held in Virginia's George Washington National Forest is the only true big mountain 100 on the east coast. The challenging and fun course is the largest NUE event. The route takes 500 bicyclists over 6 large mountains and along amazing scenic singletrack. It is second in popularity only to the Leadville 100. The Virginia event that has long been the keystone of the NUE Series always has some excitement in store. The FULL COURSE MAP IS HERE!
Guests are not welcome at the event unless they have signed up to volunteer. We do have many slots remaining for VOLUNTEERS. We could use a few marshals and need a lot of help in the kitchen providing that 10 hour meal on Sunday! check in at the volunteer tent Saturday afternoon.
Directions to the Start/Finish below - or use 464 Stokesville Road. Mt. Solon, VA 22843 and you will likely get close...
Instead:
From I-81 take exit 240. Follow Rt. 257 to Bridgewater. Take a left on Rt. 42 south, cross the bridge leaving Bridgewater and turn right onto Rt. 727. Follow to T and turn left staying on 727. Follow to stop sign, turn left onto Rt. 730, and follow to Stokesville. At next stop sign turn left on Rt. 730 again and cross over the Iron Bridge. The Stokesville Campground is immediately on your right.
2017 Continued Event Improvements-
--- we are cutting the pavilion lights and pulling the taps early Saturday night to add more energy to Sunday evening - you're welcome!
1) The Start staging area below the Stokesville Observatory that has a bracketed starting area similar to marathons. Please line up in the area based on your expectations/reality (7HR, 8HR, 9HR, 10HR..DFL!)
2) We have increased the camping area below the Stokesville Observatory too- its the best flat and quiet spot for the weekend. Just don't block the starting grid mentioned above.
4) We now have the lower bathroom building working so there are "two" shower buildings this year along with the bathrooms at the pavilion.
Here are your participant responsibilities. 1) Do NOT plug anything in any electric outlets at or near the Observatory, 2) Obey all traffic laws and rules of the trail while participating in the event (you will be riding on open roads and trails - stay tight and to the right on Rt. 250 after Station #3 and never stop and set your bike down in or on a road, please get in the grass on the shoulder. The only ones who can stop in the road are the bear hunters with their trucks - sorry!) 3) Notify the finish line official AND the nearest aid station if you drop out of the event 4) Do NOT EVER turn your car alarm on while you are at the Stokesville Campground 5) Do NOT take your car keys with you during the race. Please make sure everyone traveling with you knows where your keys are at your vehicle if they are traveling with you 6) Make sure your guests are signed up to volunteer or don't bring them 6) Make sure your dogs stay on a leash the whole time if you really have to bring them. 7) Take all the supplies you bring to the event home with you (that means trash) 8) Don't drive out of the Stokesville Campground the way you entered - exit the way the racers leave at the start, the "EXIT". 9) Bring your favorite camp plate, drink cup and utensils 10) Only let your children play in the playground if you deem it safe - the fact that the equipment is there does not mean it is safe. 11) Refresh and replenish your StansNoTubes sealant before the event so you can run optimal tire pressure, get amazing traction and have a safer ride!!
We are requesting that folks who know their way around don't drive through the Todd Lake area to get to aid station #3-#4 to limit traffic on the course. The aid station directions for #3 and #4 give directions using Stribbling Springs Rd. to Rt. 250. By using this route you will prevent racers from coughing up nasty dust phlegm for hours after the event. We also don't want anyone but the sweep vehicle driving up FR 95 / FR 85 to get to Aid Station #5. The Volunteer directions send you up the paved route towards Reddish Knob via Rt. 924 - this will eliminate you dusting out racers for over 15 miles. The gravel is extremely dry and dusty!
All volunteers please follow parking directions when you arrive at your aid station and only park on one side of the road, it is much safer for participants on bicycles!
The campground is at max capacity.... don't bring extra people unless they have committed to volunteering for the weekend. -- Also -- Don't be a primadonna and have your special person think they can drive around the course to cheer you on. There is not enough room on the forest roads for this to happen. Managing the campground food and beverage situation has always worked somehow. It can't continue if you bring unannounced people. We don't have the room. They can come to Harrisonburg to ride any other time of the year. They can come back to the Stokesville Campground another weekend. Just email Stokesville.Campground@gmail.com or during the Oct 6 -8 weekend for the Shenandoah Mountain Bike Festival.
Ok, back to the rules and then on to the good stuff in a minute. Racers can send a maximum of 2 drop bags to aid stations (1 gallon zip lock bag) that we will provide upon request at registration. Those bags have to be closed and sealed for us to take them to an aid station. We will not transport camelbak systems. You can take an extra 30 seconds to fill up the one you are already wearing. Jeremiah Bishop will not get this special treatment, neither will you. Your pals at the aid station can not bring things out there for you-period. Anything they bring will be open for everyone to use - i.e. neutral support. If we see this happening security will quietly pack you into their vehicle and take you away. This will apply to anyone with a vehicle following them around from aid station to aid station - YOU WILL NOT GET A FINISH TIME
The Law of Support - Race Rule #1- For 2015, as in past years, we do not allow outside support on the course (except from other registered racers) or at aid stations (except from volunteers). This decision was made in an attempt to extend the life of the event. We cannot have spectators or support crews traveling around excessively on the National Forest roads during the event or we will not have our permit renewed with the National Forest. We have been told this again this year. The Forest is for many different users and we don't want to ruin anyone's experience by overusing an area. So, we are asking for your friends and family to volunteer at an aid station or pick one to hang out at and not try to follow the race. Those of us who want this event to continue thank you tremendously for not traveling on the course to follow your special person. Open up your heart to everyone at one of the aid stations and make friends!!!
Slippery Fingers – Race Rule #2 - Tuck your energy bar wrappers under the elastic on the leg of your shorts, don't just reach behind for your pocket and assume it made it in there!!!
Stokesville Campground - as most of you have experienced, the Stokesville Campground is a wonderful place to host the event. Camping is first come first served - except for the reserved RV slots. There are flush toilets, sinks, lots of porta johns and two bath shower buildings. You can still swim in the river under the Stokesville bridge. Please do not run any generators because you decided not to pay for an RV spot. Please do not use the trash can vaults that are in the ground near your campsite. You had room to bring everything you brought with you, we request that you take it home with you too, even if it is in a trash bag. Please assist us with our effort to limit waste this year by bringing your favorite camp plate and mug that you can reuse the entire weekend.
Stokesville Observatory – clear skies pending… we hope it will be open for your pleasure on Saturday and Sunday night. If you are camping near the Observatory please keep your bright white lights OUT so those interested in viewing the planets can have a higher quality look.
Packet Pickup- Saturday 4:05ish -10 pm
Sunday race starts 6:30 am
Aid Stations -- please note that HEED is the ONLY sports drink we will be providing at the aid stations
#1 - 12 miles in- is just a quick water fill up with a water bottle exchange system
#2 Charlottesville Area Mountain Bike Club with tech Support by Bluestone Bike & Run
- 31 miles in- is Full on food, water, and HEED
--cut off 12:30
#3 The Sole Source with Tech Support by Shenandoah Bicycle Co. (SBC)
- 45 miles in- is Hammer Gel and full on food, water, and HEED
-- cut off 2:30
#4 Becky and John with The Moonstompers and the Bike Lane (Reston/Fairfax)
- 57 miles in- Full on food, water, HEED and some carbonated soda
--cut off 4:00
#5 Shenandoah Valley Bicycle Coalition with Tech Support by Take Aim Cycling
- 75 miles in- is Channello's Pizza, Hammer Gel and full on food, water, cold coke and HEED (light drop station).
-- cut off 4:20 if you DON'T have lights; 6:00 even if you do have lights
#6 Charlottesville Area Mountain Bike Club with Tech Support by Bluestone Bike & Run
- 88 miles in- is full on food, water and HEED
-- cut off 8:00-
**** all cutoffs are subject to change at any time ****
Full on food is – PB&J sandwiches, Fig Newtons, Cookies, Granola Bars, Trail Mix, Pringles, Twizzlers, Gummy Bears and a mix of Apples and Bananas.
Check the website for the weekend schedule (campground schedule)
If you have to leave a drop bag behind at the race, fill out a priority mail label at the finish line table with your racer number on it and give us a $20 check for postage – Otherwise we appreciate your donation of gear to the cause. All bags not claimed or will be emptied at 9:00 am on Monday morning and contents/supplies will be emptied and used for the local fall trail work series.
The Shenandoah Valley Bicycle Coalition, Charlottesville Area Mountain Bike Club, IMBA and the SMT staff has done some great work on the trails in the last few weeks making them ride much better than they have all summer.
VOLUNTEERS - A HUGE "thanks" in advance for everyone coming down to volunteer for the event. We hope you have a wonderful time at the Stokesville Campground and enjoy your time in your National Forest.
Emergency Protocol -- If you have any allergies or require any medications please grab a sharpie from the registration table and describe your condition or list your needs on the back of your number plate. This is the first place that will be checked if someone is found unconscious. There is a good chance we could have a nasty case of Yellow Jackets (Bees) on the course this year. You must be prepared with the medication that you would need to survive multiple stings.
We will re-announce our aid station cut off schedule at the racers meeting and again at the start line.
Let us know who is entering the thousand mile club!!! Larry Camp (Team Green) is still rocking the FREE WORLD rolling into his 19th consecutive SM100. We are sooooooo excited to be teetering this close to the big 20th Annual event!
A HUGE thanks to all of the sponsors for 2017
Three Notch'D Brewing Company - Charlottesville, VA (Hburg Pub TOO!)
Hammer Nutrition with Hammer Gel and HEED
Shenandoah Mountain Touring, LLC
Stokesville Campground
Trek Bicycles
Kenda USA
Massanutten Resort
Bluestone Bike & Run
Stokesville Lodge
Shenandoah Bicycle Co.
The Sole Source - OUR BEST Harrisonburg Shoe Store
Shenandoah Valley Bicycle Coalition
Charlottesville Area Mountain Bike Club (CAMBC)
United States Forest Service
Squirt Lube
Chanellos Pizza - at Aid Station #5
Billy Jack's- Wing and Draft Shack
Jack Brown's- Beer and Burger Joint

A HUGE thanks to the JMU University Recreation Wilderness First Responders who will be out on the course at our remote medic locations and to Guy and Chris Barnes for coordinating all of that magic. Doctor Brian Dean will be out on the course keeping tabs on situations as they may arise. The Valley Amateur Club under the amazing leadership of Jeff Rinehart - sweet sweet simplex. Yep, Jeff is such a huge part of this - THANKS MAN!!!
Patrick Gunn and Rick Wilkins will be leading it all out on the Motos! SOOOO EXCITING!!!
We wish you safe travels to the Shenandoah Valley and Virginia's George Washington National Forest for the Shenandoah Mountain 100 - #Shenandoah100.
Good luck and we will see ya soon,
The Shenandoah Mountain 100 Crew
Special thanks to Jade, Judy, Beth, Travis, Ben Brown, Courtney and Sebastian Scott