5/29/2019
10th Annual Iron Mountain 100k
NUE MARATHON SERIES 2019
Damascus, VA
EVENT DATE: Cancelled - 2020?
Let us know if you want to attend a 2020 event!

Register Here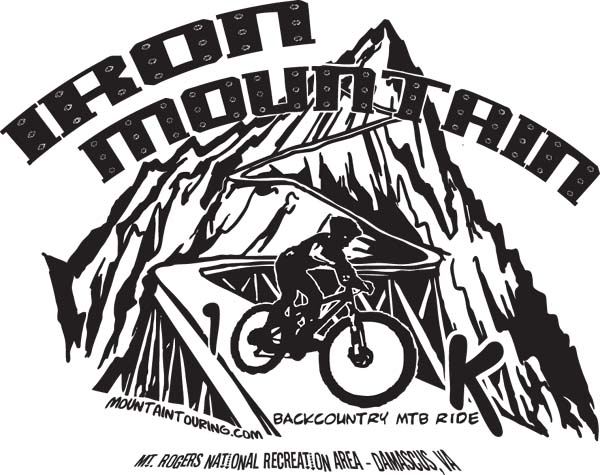 Everyone had an awesome time rocking the trails down in the Mountain Rogers NRA for the Iron Mountain 100K. Trail conditions, the weather, the racers, and the support crews were awesome!
Maps - Tent Camping Area (no campfires) and Start /Finish - 2 different places in the Town of Damascus, VA (.3 miles apart)

Registration and Number pick up - 7:00 - 9:00 pm Saturday night and 6:00 - 7:30 am Sunday (race day)
Post event feast at Damascus Town Park 2:00 pm til 6:00 pm

We'd like to thank the local shops helping with the event! Visit them to get geared up and for more information on the fantastic riding in the Mount Rogers area!

Huge Map of the Iron Mountain 100K route - not very good detail
Maps below are better detail - broken down into smaller segments of the course
Start to Aid Station #1 , #1 to #2, #2 to #3, #3 to #4, #4 to Finish
THE full service aid stations are #2 at the bottom of Jerrys Creek Trail, #3 at Skulls Gap and #4 at the bottom of Chestnut Ridge. They will have Water, HEED, Coke, PB&J's, Figs, and other tasty treats, and you can drop a bag we will provide at either Station.

Damascus is called "Trail Town" because the Appalachian Trail and the Creeper Trail pass right through the historic downtown. Bicycle advocates are also creating a Great Eastern Trail Bicycle Route that passes through Damascus too. This route is under development and utilizes the Iron Mountain Trail and the Highlands Horse Trail in the Mt. Rogers National Recreation Area. The GET Bicycle Route links to the New River Trail and onto Blacksburg where it gets back on singletrack and joins the existing GET at the southern end of the Shenandoah Mountain Trail. Sorry about that tangent! Back on track to the amazing crew that has helped get the Iron Mountain 100K off the ground. The idea man David Witt along with Casey Bledsoe, Bill and Debbie Tilson, Jonathan, and the Town of Damascus have all pulled together behind the event to make it happen - THANKS!
Brian and TJ from Tennesee are always amazing as they normally run both Aid Stations #1 & #3. We need a crew to run #4 at the bottom of Chestnut Ridge. HUGE thanks to all the helpers- the Moon Stompers for sweeping, Brian and Brian and the Tilsons!!!
The Iron Mountain 100K is a Shenandoah Mountain Touring, LLC event - www.MountainTouring.com